People've been arguing a lot about crowd size lately, and these arguments have now spilled over into debates about the size of the annual March for Life compared to the (truly enormous) size of the Women's March on Washington. March for Life organizers and friendly press routinely claim the March for Life draws crowds well into the hundreds of thousands. Yesterday, President Trump himself argued, as many conservatives have, that the media ignores large crowds at the March for Life while heavily promoting large crowds at pro-abortion rights rallies like the Women's March.
There is no doubt considerable truth to that. The March for Life is an annual comedy of news bias in which reporters routinely pay as much or more attention to a few dozen pro-choice counter-protesters than to the thousands and thousands of pro-lifers on the Mall… and that's assuming they notice the March at all. Media crowd size estimates at the March for Life are routinely ridiculous lowballs ("hundreds"? seriously?). This despite the fact that the March for Life, even given conservative assumptions, is routinely the largest march on Washington of the year… and it happens every single year.
However, the crowd at the March for Life is almost certainly much smaller than the enormous (400,000+) estimates routinely given by its supporters. Let's take a look.
Here's a lovely image of the 2013 March (in their pre-March rally), courtesy of Iowans For Life: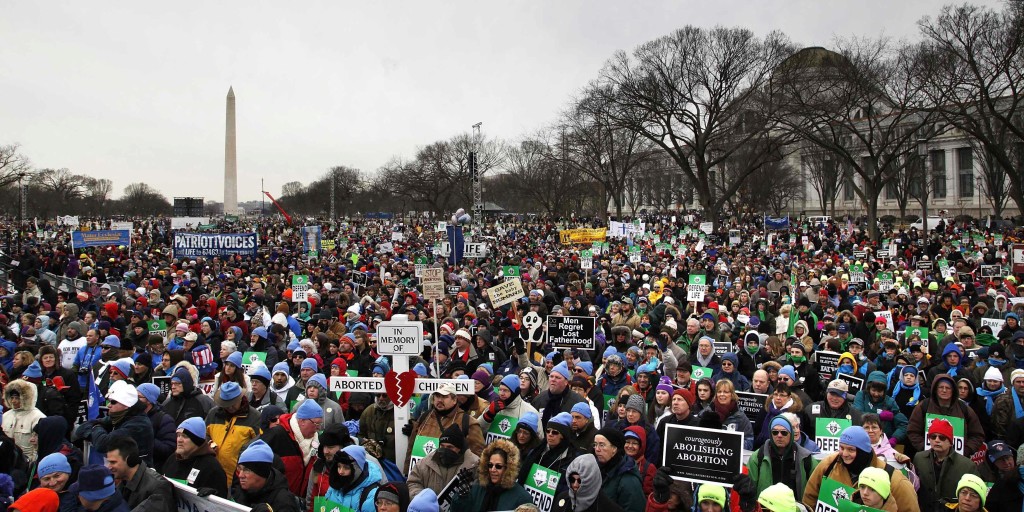 This is a huge crowd, no question. That's the Natural History Museum in back, and this rally appears to be as long as its entire facade — one full block of the National Mall, packed in with protesters.
One full block of the National Mall, as we've seen during the recent roaring debates about inaugural crowd sizes, works out to 50,000-ish people, emphasis on the "ish."
Images from other years and other locations seem to generally support the "roughly one block of the National Mall" estimate.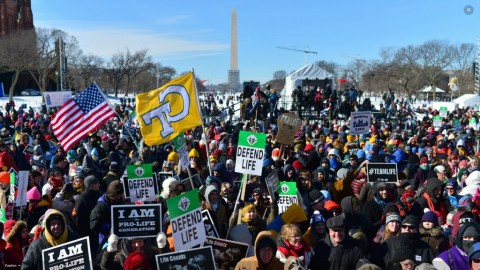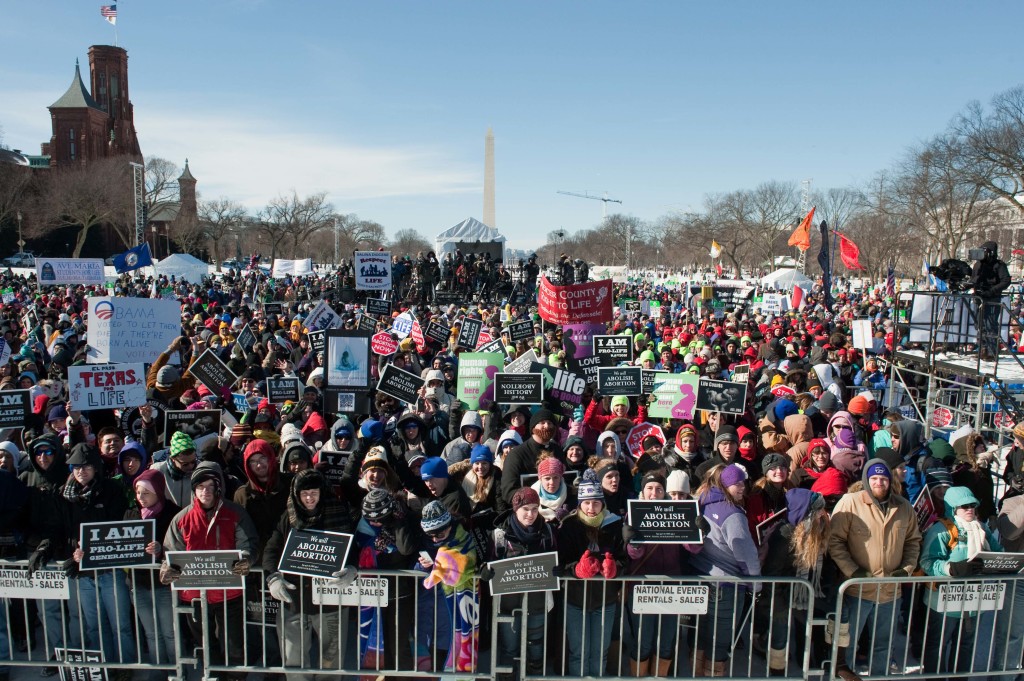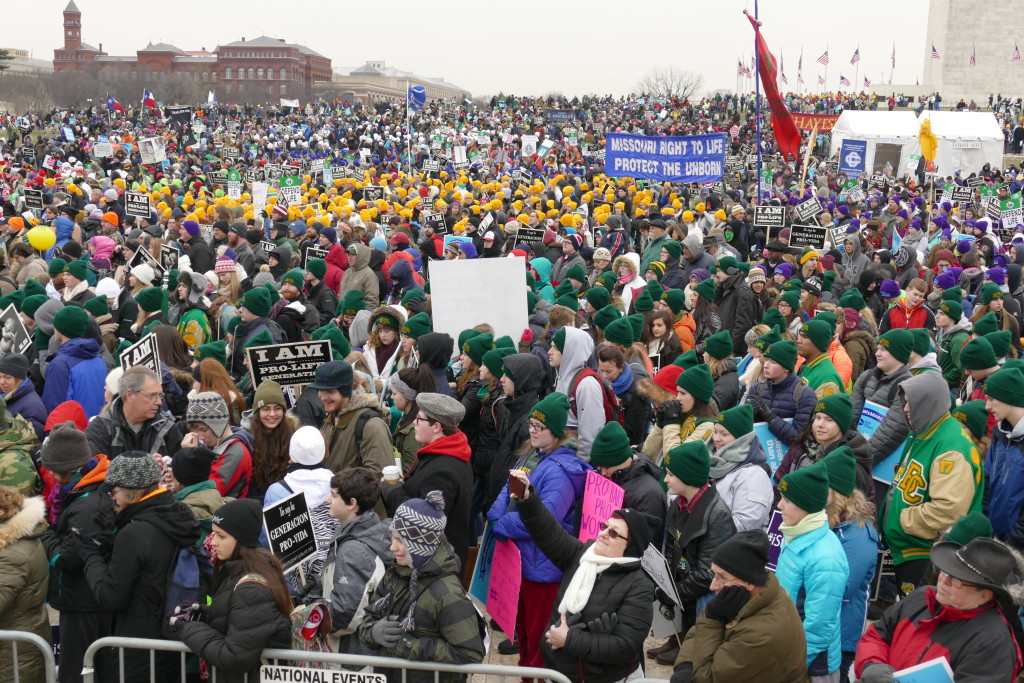 Based on this evidence, it seems reasonable to estimate that the March for Life crowd size is between roughly 30,000 and 100,000 each year.
The March for Life itself must file a permit application each year, and this permit must list the organizers' anticipated attendance. This year, as in past years, the March for Life officially estimated an attendance of 50,000 — broadly in line with my own estimates. (SOURCE: D.C. Protest Permit Applications, January 2017)
Moreover, the last time the National Parks Service estimated the size of a March for Life, in 1995, their estimate placed the March at about 45,000 attendees. (Congress withdrew NPS's authority to make official protest estimates later that year, after an unrelated brouhaha in which NPS reported that Louis Farrakhan's "Million Man March" did not, in fact, have a million men in it.) That estimate is now twenty years old, but, once again, it broadly lines up with our estimate of 50,000-ish, emphasis on the "ish".
Some former marchers have privately suggested to me that this estimate is off-the-mark by a wide margin. One marcher, from the 2013/14 event, recalled on Reddit that, even though he was in the back half of the march both years, "from the hill of the Capitol, looking back, I saw a sea of people. Every block visible was completely full." (I initially misunderstood his statement, which is reflected in my reply to him, but I have since familiarized myself with the route of the March in 2013/2014.)
In those years, the March ran from the Natural History Museum at 9th Street down Constitution Ave. to the Supreme Court building. There's no way this Redditor was able to see that entire expanse, but let us suppose, for the sake of a generous estimate, that, at the peak of the March, the Marchers filled the entirety of Constitution Ave. from the March's start at 9th Street, all the way down to First Street in front of the Supreme Court building.
Google Maps tells me that that distance is 1.1 miles, or 5808 feet (roughly). Constitution Ave.'s width varies, but the average over the route is about 8 lanes of traffic. Assuming 12-foot lanes, Constitution Ave. is 96 feet wide on average. That's 557,568 ft2, or 51,800 m2.
We know that you can fit about 5 persons per square meter if they're standing still. Any more and you risk their safety. Once they start moving, the dynamics become more complicated, and you end up with a limit of about 3 persons per square meter.
So, assuming the March for Life completely saturated its entire marching space, multiply the total area in meters by three persons per meter, and we end up with an estimated attendance of 155,400 in 2013 and 2014.
However, because of the generous assumptions granted in this estimate, this figure must be taken as an upper limit. Video evidence of these and other marches suggests that the March for Life fell well short of complete simultaneous saturation of all available streets. This points us back toward an estimate in the 50,000 – 100,000 range.
(For comparison, the Women's March, generally estimated at about 500,000 strong, came close to saturating not just a lengthy stretch of Constitution Ave., but also a large portion of the Mall and a number of other side streets, as you can see in this photo taken by Lucas Jackson of Reuters and originally hosted by The Atlantic.)
I say none of this to pooh-pooh the March for Life. There is much that is immensely impressive about the March. Very few causes are able to bring out 50,000+ people to march on Washington. Even fewer have done so in the face of an apparently deliberate media blackout effort.  No other cause has been able to pull such an impressive spectacle together, against all odds, every single year. This year marks forty-four consecutive years of the March for Life, through all kinds of weather despite all kinds of political situations.
The March for Life is a totally non-violent protest against the greatest ongoing act of violence in the history of the world. The moral arc of the universe is long, but the March for Life will be remembered as its vanguard. 2017's gathering, featuring the Vice President of the United States for the first time in the March's history, promises to be an especially successful event, and I suspect the media will be forced to finally pay attention to the fact that, outside the media bubble, the majority of Americans want to enact major restrictions on abortion.
However, I am concerned that pro-life advocates are placing the March for Life on a pedestal from which it will inevitably be toppled. I would hate to see us get into a fight about crowd sizes that will only give the media a cheap reason to dismiss the objective enormity of our movement. So bear these two things in mind as we go into the March for Life tomorrow:
The 2017 Women's March on Washington represented a paroxysm of one-off, anti-Trump frustration, which is unlikely to crystallize into the sort of sustained, successful resistance movement that the pro-life coalition has built. Nevertheless, it is almost certainly the case that the 2017 Women's March on Washington was at least twice as large as any recent March for Life.
There is little reason to suspect that the March for Life will have even 200,000 attendees in Washington this year. Crowd estimates by organizers and supporters that are higher — often much higher — should be disregarded as wishful thinking… unless backed by solid evidence.
I am, as always, open to considering any and all other evidence about the size of the March for Life. Comments are open below.