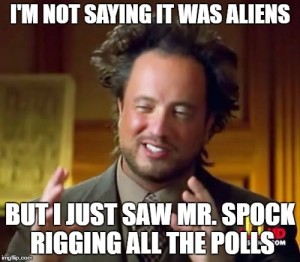 I've been swimming in Trump supporters arguing that the polls are "rigged" against their man. In every political cycle, there's always some fringe that argues the polls are understating support for their candidate. In 2012, Republicans argued why Romney would beat his polls, and the Romney campaign itself truly believed this. In 2010 and 2014, as the midterm polls looked better and better (for Republicans), it was Democrats screaming about "oversampling." I myself indulged in this back in 2012 (but hahahaha oh boy was I wrong).
But it's worse this year. Trump supporters are being publicly bolstered by their own candidate, who is claiming the polls are "rigged" to anyone who will listen. This has energized a base that is already inclined to believe many less-than-reputable sources because of their (completely justified) distrust of the mainstream media and the incredibly, genuinely dishonest cottage industry of so-called "fact-checkers". Unfortunately, the simple fact that the MSM is basically untrustworthy does not mean sites of the lunatic fringe (like ZeroHedge.com) suddenly become trustworthy.
They aren't. This year as in previous years, there is no poll-rigging conspiracy.
Now, it is possible that the polls are wrong. This happens routinely. In fact, I think the media on the whole is greatly underestimating Trump's chances. By looking at the polls and other factors, FiveThirtyEight's model at this hour projects Trump with a 17% chance to win. That's not good, but it's not doomed, either: it's the college basketball equivalent of the Marquette Warriors coming back from a 6-point deficit with 15 minutes of play left in the second half to defeat the racist Adolf Rupp. Or, for nerds: it's the equivalent of rolling a crit on a 17-20/x2 weapon.*  It's not likely, but it still happens pretty routinely.  Trump could win this election, and I wouldn't even be surprised to see the polls proved wrong.  (I also would be unsurprised by Hillary beating her polls and bringing home a landslide victory of 12 points or more. Thing about polling error is it goes both ways.)
But what the polls aren't is rigged.
Here are four false rigged-polling stories I've seen in just the past 24 hours:
(1) Monmouth is Collaborating with Clinton!!!
I have no idea where this one came from.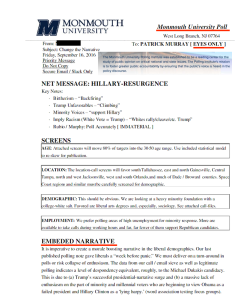 An outlet called PolitiForum made the following claim two weeks ago (under the headline "Wikileaks Proves that the Polls Are Rigged for Clinton"):
The latest batch of files and emails show that Monmouth University was in bed with the Clinton campaign to skew polling data
This claim was attached to this document (at right), which does indeed appear to show Patrick Murray of the Monmouth poll deliberately skewing the polls in order to bolster Hillary.
Problem is, the document is fake. There is no such document in the WikiLeaks archive. There couldn't be: this document is dated September 2016, but the WikiLeaks archive (at least so far) only goes through March 2016. The headers on this document are fairly clear photoshop jobs, given the giant lines in the page and the bizarre use of a mission-statement image seemingly clipped from the Monmouth website in the header (where no email could print an image). And the rest of the document is just absurd, exactly what you'd expect a Trump supporter with a heavy fever to dream up, from the misspelling of "embedded" to the "lying harpy" line in the summary. "Favored are liberal arts degrees, and, especially, sociology. See attached call files." Seriously? Does anyone think Monmouth has call files of sociology majors?