Like most Americans, conservatives do not know very much about Net Neutrality.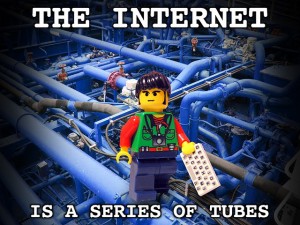 What they do know about it makes it sound like a terrible idea: a bunch of Silicon Valley elites, backed by the Google panopticon and the Mozilla jerks who publicly executed Brendan Eich over his quiet support for traditional marriage, are demanding that the FCC impose sweeping regulations on the companies who bring the Internet to your door.  With help from their close ally President Obama, these shysters have made tremendous forward progress against the so-called "evil" corporations who (in reality) own, develop, and generally manage the series of tubes that make up the Internet – corporations who have, in short, ushered in the entire Internet Age and all the good it entails.  The only people in this drama who are holding off the regulators are the valiant heroes at the Wall Street Journal and the National Review, who are not afraid to stand athwart the regulatory agenda yelling "stop!," demanding free markets and free peoples and not an iota less.
Given that narrative, it seems odd for a conservative – whether an old-guard big-business Bush-era conservative or a new-guard Paulite libertarian conservative – to support Net Neutrality.
Except I do Internet for a living, and I am one of the lucky ones who actually knows what Net Neutrality means and what it's responding to.  And, folks, I'm afraid that, while L. Gordon Crovitz and Rich Lowry are great pundits with a clear understanding of how Washington and the economy work, they don't seem to understand how the Internet works, which has led them to some wrong conclusions. Continue reading →