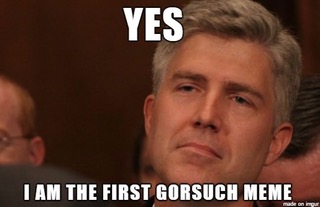 Nobody seems to have pointed this out yet, so I guess I might as well put something up quick.
President Trump is not a big fan of net neutrality, and his new FCC commissioner, Ajit Pai, is, uh… really not a fan. Mr. Pai is already working on rolling back the FCC's net neutrality rules, which were passed under President Obama. Most conservatives agree with Trump. Judge Gorsuch, of course, is a conservative nominee appointed by an anti-net neutrality president. So the going assumption is that Gorsuch will hurt the cause of net neutrality if confirmed to the Supreme Court. That he will not protect the open internet.
This is a mistake.
"Net neutrality," for those of you who have never read my gigantic posts about it, is the principle that internet service providers (such as Comcast) have to allow their users equal access to the entire Internet. Under net neutrality, Comcast can have its own video service that competes with YouTube, but it cannot block YouTube from its network to force you (the Comcast subscriber) to use the Comcast video service. Nor can it treat its videos differently from YouTube videos as they travel down the wire to your computer: you get both videos as fast as possible, based on whatever data rate you are paying for. Nor can Comcast force YouTube to pay extra to connect with its network. And so forth.