If other men choose to go upon all fours, I choose to stand erect, as God designed every man to stand. If, practically falsifying its heaven-attested principles, this nation denounces me for refusing to imitate its example, then, adhering all the more tenaciously to those principles, I will not cease to rebuke it for its guilty inconsistency. Numerically, the contest may be an unequal one, for the time being; but the author of liberty and the source of justice, the adorable God, is more than multitudinous, and he will defend the right. My crime is that I will not go with the multitude to do evil.

–William Lloyd Garrison, abolitionist, in an 1854 speech (h/t Neil Stevens)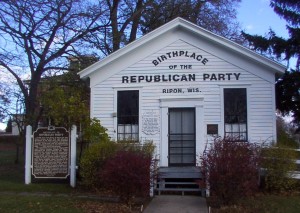 Donald Trump is the presumptive nominee of the Republican party.
On Tuesday, we discussed how this happened. Today, we have to decide: what are we going to do about it?
This is the third and final part of a three-part series. The first part deals with the fight from here to the convention. The second part deals with the 2016 election. This final part looks beyond 2016 to a new conservative future.
This is the longest entry in the series. It is also the most important. I do not know how to make it shorter.
November 9th and Beyond: Conservatism Without Republicans
I don't think we can stay in the Republican Party.