WARNING: This post contains spoilers for Star Trek: Discovery, and some of the links contain spoilers to some of the best bits of Star Trek: Deep Space Nine.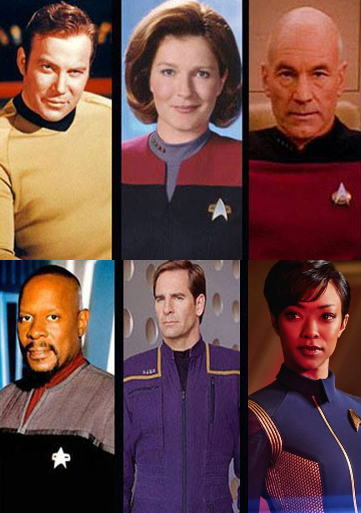 I don't talk much on De Civ about my personal life, but I am an enormous Trekkie and always have been. I once memorized a song listing all the episodes of Star Trek: The Next Generation, more or less in order, and the most damning thing of all is that I routinely find it genuinely useful to have this song memorized.
I even used to run a Star Trek roleplaying game online.  A dozen or so players from around the world came up with Star Trek characters they could pretend to be aboard my "starship" and we all wrote Star Trek adventures with each other, using short chapters called "posts." I played the captain, a bitter Bolian war hero, and I was ultimately responsible for coming up with good plots for the other characters to play through. The game ran for several years, and we had a lot of fun.
This is called "simming." There's a whole subculture around it. People who like the Original Series simm ships from Kirk and Spock's time, people who want to "continue" Star Trek make simms that share the time period and feel of Voyager and Next Generation, and so on. People who want to make Star Trek "dark and gritty" make restricted "R-rated" simms which are inspired by Star Trek but with cussing, dark and pessimistic storylines, character death, and a lot more sex. There are even a few who like the J.J. Abrams movies enough to make simms based in the "Abramsverse." Simms often organize into federations of dozens of different simms called fleets, which allows them to share stories across a large shared multiverse.
Of course, because of Sturgeon's Law, most simms are terrible, repetitive, joyless, and unstable. But some aren't. (Mine, for instance!) Even a few of the R-rated games were surprisingly decent.
There was one R-rated game in my fleet called, I think, Deep Space 17. It was captained by a chipper 16-year-old girl named Penny whose character (in one of the Mary Sue flourishes for which simms are justly famous) was also a 16-year-old girl named Penny, the youngest captain in Starfleet, an absolute prodigy. When she decided to make her game more "mature," I think she had some genetic virus infect her that turned her into a 21-year-old, and then she added an R-rating to her game and the characters started angsting a lot more. Her game had a lot of people shouting at each other and having sex and making Difficult Choices because Every Episode Needs To Be Dark, but, for a simm, she had good writers, and she became a good writer herself. It was different enough from everything else in my fleet that I honestly enjoyed reading their adventures.
Fast-forward to today. I'm no longer a simmer, but I am faithfully watching every episode of the new Star Trek: Discovery (currently paywalled for American viewers at CBS All Access). It's unlike any Star Trek that has ever been televised before. And yet, every week, I haven't been able to shake the feeling that I've seen this all before. None of the shocking twists have made me even bat an eye. Several of them have made me roll my eyes. But so much of Discovery is new and different, where could that feeling be coming from? And why do I feel so disappointed in a show that is so bold and fresh and new–all things I've long believed a new Star Trek needed to be?
It finally clicked with me when this happened in episode 5, "Choose Your Pain":