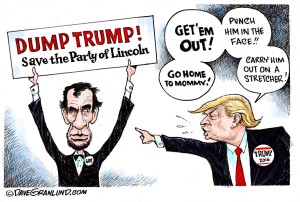 Since winning the nomination, Donald J. Trump has done all of the following: insulted the family of a man who died in service of his country; kicked a baby out of a rally; failed to rebut evidence that he was a draft dodger; embraced the opponent of the sitting Republican Speaker of the House while refusing to endorse the 2008 GOP nominee for president; attacked fire marshals at his rallies as "political" for enforcing occupancy limits; driven his staff and the RNC to despair; and denied the (very real) Russian conquest of Crimea.
I'm sorry, did I say, "since winning the nomination"?  Actually, that was just the past 36 hours (as of this writing). By the time you read this, no doubt Trump will have disqualified himself from the nuclear suitcase many more times – and it's not like Trump was an angel before August, either.  Trump should not be the Republican nominee for president.  He should not even be the Republican nominee for Secretary of Transportation – 13th in the line of succession is far too close for a man of his low character.
Fortunately, he doesn't need to be.